Spring is a season of new beginnings, and Easter is a holiday that celebrates just that. Whether or not you celebrate the religious significance of the holiday, Easter is a time to gather with loved ones, enjoy delicious food and bask in the beauty of the season. Hosting an Easter gathering can be a lot of work, but with a little planning and preparation you can create a memorable and enjoyable experience for everyone. Here are nine tips for hosting Easter that will help you create a stress-free and festive celebration that everyone will love.
1. Set the Mood with Candles
Source: Nesolenaya Alexandra/Shutterstock.com
Candles are a fantastic way to set the mood for any occasion, and Easter is no exception. When it comes to choosing the best spring candles, there are several amazing options, including floral scents like lavender and jasmine, fresh scents like cucumber and mint and sweet scents like vanilla and coconut. State candles are also a popular choice for Easter, as they often feature springtime scents unique to each state and can trigger memories of your favorite places and images of destinations you'd like to visit in the coming spring and summer months.
To create a warm and inviting atmosphere for your Easter gathering, consider placing candles strategically around your home. You can place candles in the entryway to greet guests as they arrive, on the dining table to create a cozy ambiance during dinner and in the living room to encourage relaxation and conversation.
2. Decorate with Fresh Flowers
Nothing says spring quite like fresh flowers, and incorporating them into your Easter decor is an excellent way to bring a touch of nature indoors. Consider creating a centerpiece for your dining table using seasonal flowers like tulips, daffodils and hyacinths. You can also place fresh flowers throughout your home, such as on your coffee table, mantle or kitchen island. If you're short on time or don't want to worry about fresh flowers wilting, consider using faux flowers instead. High-quality faux flowers can look just as beautiful as fresh ones and be reused year after year.
3. Offer a Variety of Food and Drink Options
When it comes to hosting Easter, some of the most important things to consider are the foods and drinks you'll be serving. Easter is a time for indulgence, so don't be afraid to offer a variety of options to satisfy everyone's tastes. Consider serving a mix of sweet and savory dishes, such as ham, deviled eggs and quiches, alongside fresh fruit, pastries and desserts like carrot cake and hot cross buns. When it comes to drinks, offer a mix of alcoholic and non-alcoholic options, such as mimosas, sparkling cider and lemonade. Be mindful of your guests' preferences, and strive to have something for everyone (within reason).
4. Create a Kid-Friendly Zone
Source: Rawpixel.com/Shutterstock.com
Family gatherings aren't always the most exciting events for kids, so if you're hosting Easter with children in attendance, having a kid-friendly zone where they can play and have fun is essential. Consider setting up a separate table with activities like egg coloring, coloring books, puzzles and games, as well as a designated area for an Easter egg hunt. In addition to keeping the kiddos busy, it will keep them out of the way, so they don't accidentally get hurt or make cooking more difficult. You can also offer kid-friendly snacks like fruit skewers, cheese and crackers and mini sandwiches to keep them fueled throughout the day.
5. Incorporate Easter-Themed Decor
Easter is a holiday that's all about pastels, bunnies and eggs, so incorporating Easter-themed decor into your home is a must. Consider hanging pastel-colored streamers or balloons around your home, placing Easter-themed dishware on your dining table and hanging a festive wreath on your front door. If you have the time and energy, you can also create a DIY Easter centerpiece using items like plastic eggs, Easter grass and a decorative vase. Not only will these decorations add a fun and festive touch to your home, but they'll also make for great photo opportunities.
6. Provide Ample Seating and Comfortable Arrangements
When hosting family and friends, it's always important to provide ample seating and comfortable arrangements for your guests. If you don't have enough, consider renting chairs or borrowing extra seating to ensure that everyone has a place to sit during dinner and throughout the day. Create extra-cozy seating arrangements by adding throw pillows and blankets to couches and chairs. This will encourage guests to relax and mingle, making for a more enjoyable and relaxing experience for everyone.
7. Plan for Indoor and Outdoor Activities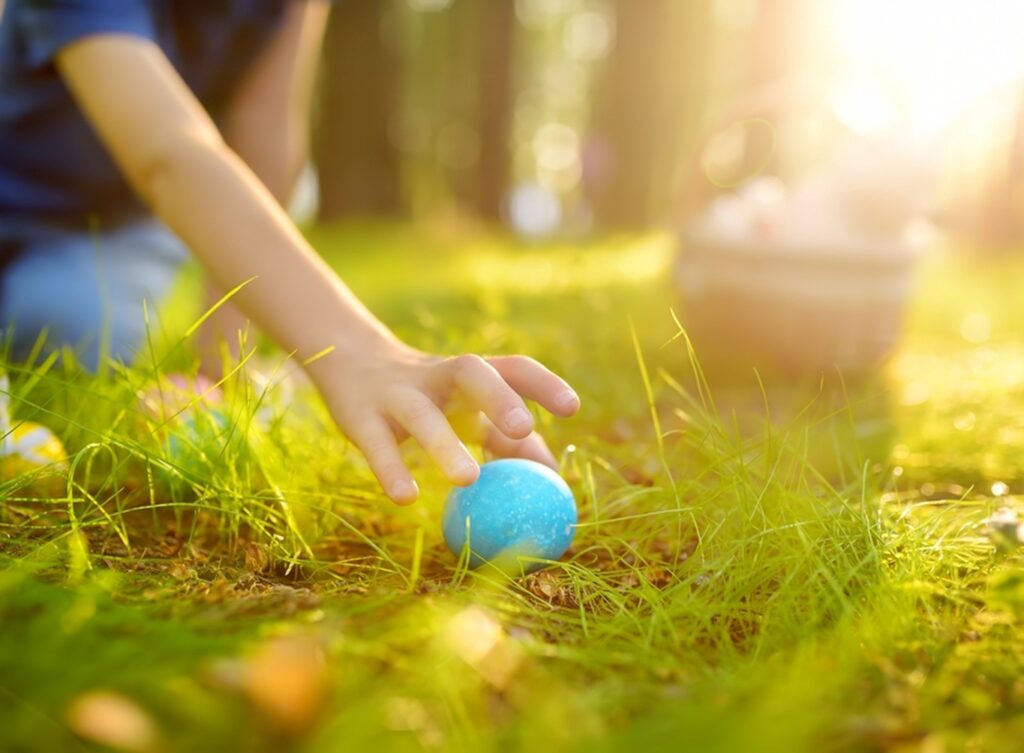 Source: Maria Sbytova/Shutterstock.com
Spring weather can be unpredictable, so it's important to plan for both indoor and outdoor activities during your Easter gathering. If the weather is nice, consider setting up outdoor activities like lawn games or an Easter egg hunt. You can also set up a seating area outside for guests to enjoy the sunshine and fresh air. If the weather doesn't cooperate, have a backup plan for indoor activities like board games, a movie marathon or a craft station. Be prepared to bring your egg hunt inside, too, in case of inclement weather. This will prevent disappointment and ensure that your guests are entertained no matter what the weather brings.
8. Don't Forget About the Music
Music is an essential part of any party, and Easter is no exception. Consider creating a playlist of upbeat and festive songs that will get your guests in the spirit. You can also choose songs that are family-friendly and appropriate for all ages. If you're unsure where to start, consider selecting songs that feature themes of spring, renewal and new beginnings. This will create a cohesive and festive atmosphere and enhance your guests' experience.
9. Keep It Simple and Enjoy the Day
Hosting Easter can be stressful, but it's important to remember to keep it simple and enjoy the day. Don't worry about everything being perfect, and don't be afraid to ask for help. Your guests are there to enjoy each other's company, so don't get bogged down in the details. Remember, Easter is a time to celebrate with family and friends, so take the time to relax and spend time with the people you love most. Cherish the memories you create with your loved ones, and don't sweat the small stuff.
Closing Thoughts
Hosting Easter can be a lot of work, but it's also a lot of fun. By following these nine tips, you can create a stress-free and enjoyable experience for yourself and your guests. From setting the mood with candles to creating a kid-friendly zone, there are plenty of ways to make your Easter gathering a success. So, take a deep breath, relax and enjoy the day with your loved ones. Happy Easter!