With autumn coming, winter will be quick to follow. And when the cold season arrives, so will the rage for cozy, warm, and comfortable jackets. The one thing about jackets is that they can get bulky and unappealing, essentially a wardrobe nightmare for fashion enthusiasts. Luckily, fleece jackets have come out of the dark corners of your closet to give your winter style a new, snuggly meaning. With the recent fashion craze surrounding fleece, fashion aficionados wouldn't have to sacrifice comfort to follow the hottest trend.
Similarly, if you mix up your clothes to create your own style that aligns with your identity, fleece jackets are also helpful. They are flexible enough to be incorporated into various mixes, from the typical preppy to the edgy, even if you are into the eccentric side of fashion.
One of the top outdoor apparel brands has many fleece jacket styles that will allow you to transition effortlessly from the mountain trails to the city streets. In this fashion-forward guide, we explore the art of styling Stio's fleece jackets, providing insights into the essential components that make unconventional style mixes work across various occasions.
Color Coordination
Fleece Jackets by Stio come in a spectrum of colors carefully chosen to complement various outdoor scenes and urban settings. Thanks to their budget-friendly price, you can curate a collection of multiple colors within the same style. This allows you to effortlessly mix and match your existing wardrobe, easily adapting to the day's activities.
For instance, you can wear earthy tones such as muted grays, deep blue, or forest green to harmonize with nature during your outdoor adventures while exploring bolder colors like rich burgundies, sleek blacks, or vibrant reds when going on a city run. With the vast range of available colors, you can experiment any way you want, adding flair to your overall look while seamlessly integrating into any environment.
Layering Techniques
Stio's fleece jackets also display remarkable versatility, complementing any clothing ensemble effortlessly. It has become not just a necessary addition to warmth but a fashion statement that can elevate your style and serve you in any aspect of your life, whether as a sportsperson, outdoor adventurer, or urbanite. Click here for some helpful tips on layering with style.
For outdoor activities, a lightweight fleece jacket is a must as a mid-layer to support your more durable outer shell. This enhances insulation and allows for temperature regulation to combat weather unpredictability. Layer your fleece jacket over a crisp shirt or lightweight sweater for city activities to polish and contemporize your look. Essentially, the key is to strike a harmonious balance between functionality and style, ensuring that each layer not only serves a specific purpose in battling the elements but also complements the others to create a cohesive ensemble.
Day-To-Night Transition
You can quickly shift from a daytime look to a nighttime adventure with just two distinct fleece styles to transition from being a corporate worker during the daytime to a party animal at night. By adding just a few elements to your fleece jacket, you can come out spick and span with a look fashionably appropriate for any time of day.
During the day, the key is to blend practicality with comfort. For an appropriate corporate look, choose a fleece jacket with a sleek and minimalist design that could have a zip-up and a stand-up collar for a touch of sophistication. You can pair it with tailored trousers, a pencil skirt, classic close-toe loafers, oxfords, and some simple accessories.
As the sun sets and you transition into your nighttime adventures, you can swap out your office trousers for stylish ones or tailored jeans. For footwear, change your loafers to ankle boots or casual sneakers for more accessible and flexible movement. Accessorize the whole look with statement accessories, such as a chic scarf or a piece of jewelry that adds glamour to your overall style.
Mixing Textures and Fabrics
Experimenting with textures and fabrics is a surefire way to add depth and visual interest to your fleece jacket ensemble. This style strategy is particularly effective for creating diverse looks, whether you set out for an outdoor adventure or navigate through the city streets.
For your outdoor adventures, including engaging in sports activities, functionality always meets fashion. The essential component is introducing texture through your fleece jacket with a blend of moisture-wicking base layers. This means opting for a fleece jacket with subtle textures, such as a woven fabric or raised pattern, to add tactile interest, which can be paired with base layers such as compression shirts or leggings.
For an urban ensemble, mixing textures and fabrics takes on a more fashion-forward note. Pair your fleece jacket with stylish components, such as denim jeans or leather trousers. This interplay of textures not only adds visual appeal but also elevates the overall sophistication of your outfit, making it suitable for a range of urban settings, from casual outings to more refined occasions.
Here's a great reference for mixing and matching clothing textures: https://www.masterclass.com/articles/how-to-create-outfits-by-mixing-and-matching-clothing-textures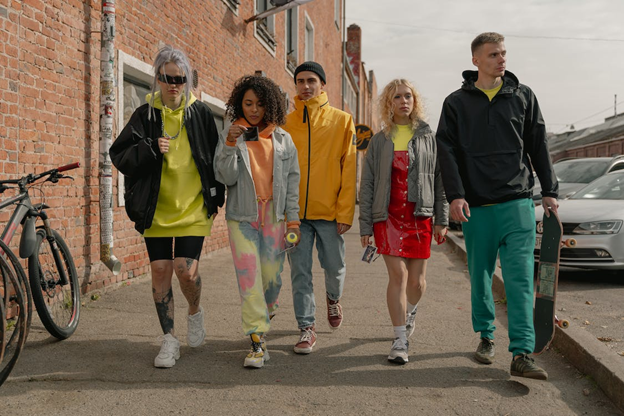 Styling Stio's fleece jackets for outdoor adventures and everyday urban wear is a delightful exploration of the intersection between fashion and functionality. Whether navigating mountain trails or city streets, let your Stio fleece jacket be a canvas for your fashion expression, blending comfort and style seamlessly in every setting and occasion.