Perhaps it's time for you to upgrade your outdoor space. This way, you can design a backyard that you'll love. In reality, however, this is sadly easier said than done! It can be tough to figure out the best way to design and decorate the area. With the tips provided in this article, however, you can create a stunning backyard that everyone can enjoy.
Add A Garden Bench
This is a long seat on which multiple people can sit at the same time. You can use it for family times outdoors or for extra seating when entertaining guests. They're usually made from wood or metal and can be placed in a garden, backyard or another outdoor area. Benches are often used as decorative elements in gardens, as well as functional pieces of furniture.
You can find plenty of inspiration by accessing Instagram or Pinterest, or visiting specialist websites. If you're looking for teak garden benches you can search by category, table style, material or type. You'll find everything from teak benches with or without arms to backless benches, picnic tables and half-moon love seats.
Install A Patio Or Decking
Basically, a patio is a paved area that adjoins a house. They're used for dining, entertaining, or simply relaxing. A patio can be created from many different materials, including concrete, stone, pavers, or brick. If you plan on regularly dining outdoors, make sure to include enough seating and table space. If you love to entertain guests, consider adding a built-in grill or outdoor kitchen. If you want your patio area to be a private space, however, find a secluded spot and add some beautiful landscaping.
An alternative option is to install some decking, which is an outdoor floor covering that's usually made from wood. It's used to create spaces for relaxing and entertaining, and can be found in both residential and commercial settings. The benefits of decking include its durability, easy maintenance, and the fact that it can add value to your home.
When it comes to outdoor decoration, one essential tool that can help you plan and design your space effectively is a Decking Calculator. This handy online tool allows you to accurately estimate the materials you'll need for your deck project. By inputting the dimensions of your outdoor area and selecting the desired deck board size, the Decking Calculator calculates the number of boards, screws, and other materials required for your deck installation. This eliminates any guesswork and helps you stay within budget while ensuring a seamless and professional finish. 
Buy An Outdoor Rug Or Hammock
Outdoor rugs are usually made of synthetic materials such as polypropylene, which can withstand harsh weather conditions. They come in a wide variety of patterns and colors, so you can locate one that matches your decor. Outdoor rugs can protect your decking from scratches and stains, as well as provide an extra layer of comfort underfoot. This makes it an attractive solution for when you're entertaining guests or just relaxing outside.
A hammock is a classic piece of equipment used for sleeping or relaxing outdoors. They're usually made of fabric or rope and are suspended between two points, such as trees or posts. Some hammocks can be purchased with stands, which increases your options as to where you put them. They're ideal for spending lazy days lounging in your backyard, and they can be easily transported from one location to another.
Build An Outdoor Fireplace
This can create somewhere to gather around and enjoy the outdoors, even when it's cold. It also brings a sense of class and sophistication to your backyard. If you're looking for a way to take your backyard from drab to fab, an outdoor fireplace is the answer. There are two main types of fireplaces: wood-burning and gas versions. Both have their own set of pros and cons, so it's important to weigh your options before making a decision.
Outdoor fireplaces come in all shapes and sizes, so there's definitely one that'll fit your space perfectly. If you're working with a smaller backyard, a compact fireplace is probably your best option. For larger spaces, you might want to consider a grandiose design that really makes a statement.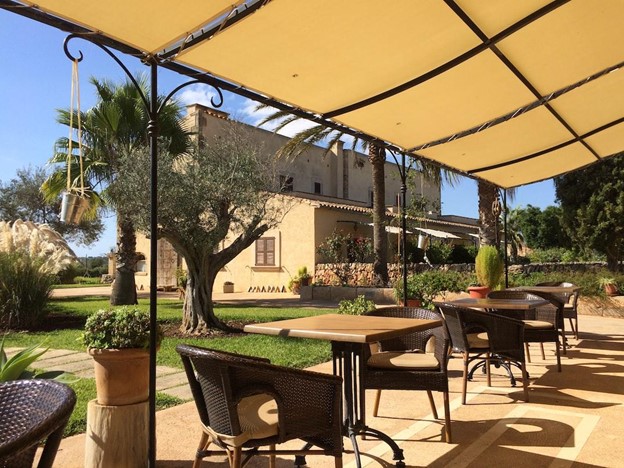 Add An Awning
This is a piece of fabric or metal that's attached to the side of a house or building. It's used to provide shade or shelter from the sun, wind, or rain. Awnings can feature a variety of materials (including canvas, vinyl, and aluminum) and they come in many different colors and styles. Adding an awning to your backyard can create an inviting space for entertaining or relaxing, and will also protect your outdoor furniture.
If you live in an area with severe weather conditions, you may want to consider investing in a retractable awning. This can be retracted when not in use, so it won't be damaged by high winds or heavy rains. Awnings can protect the interior of your home from heating up on sunny days, lowering your air conditioning costs. They can also provide extra privacy from neighbors.
Install Some Outdoor Lighting
This is a great way to add style and ambiance to your backyard. String lights are a popular choice because they're relatively inexpensive and easy to install. You can hang them from trees or eaves, or drape them across a patio or deck.
Lanterns add a touch of elegance to any backyard gathering. They come in many different styles, including traditional oil lanterns, electric lanterns, and solar lanterns. Electric lanterns are the most expensive option, but they're also the most convenient because you don't have to worry about refilling them with oil. Solar lanterns are a great eco-friendly option that doesn't require any electricity to operate.
Add Something For The Birds
A bird table is a great way to attract different types of birds to your garden and they can also help with keeping the bugs at bay! A birdbath is a must for any nature lover as it provides them with a place to drink and bathe, plus it's just really pretty to look at.
A nesting box is a great way to encourage birds to make their home in your garden and you can even get ones that are designed for specific species.
All these different suggestions add up to making a stunning backyard that you'll be delighted with. It'll be fit for purpose, great to look at and comfortable for everyone. Once the hard work has been done and everything's in place, you can look forward to many happy hours in your outdoor space.