A Comprehensive Guide to Choosing the Perfect Headboard
It may not seem like it, but headboards can be a thing of beauty, creating dramatic focal points or elegantly framing your bed for a sleek and polished design you would expect in a luxury hotel. Alternatively, you can stick to simple and functional, with space-saving and forward-thinking choices.
Regardless of what you choose, it is essential to ensure headboards match a room's overall design and feel without becoming an overwhelming feature that takes away from the completed finish of your bedroom sanctuary.
Size
It goes without saying that you need to know the width of your bed to ensure your headboard will fit, but you should also consider the size of the room itself and the height of the ceiling. In smaller spaces, a bulky headboard will overwhelm the rest of the room and cause the ceiling to look lower than it really is.
Use masking tape to create the dimensions on the wall to give yourself a visual idea of what your choice will look like once set-up.
Height
If you plan to lean back on the headboard while reading or watching tv, it will be beneficial to install a taller headboard to accommodate your needs and keep you comfortable. On the other hand, a shorter, less imposing variety is better for those who jump straight into bed and fall asleep.
A high headboard is beautifully complimented by a high footboard, creating a sense of luxury and extravagance. A small double headboard is more appropriate for a modern yet chic aesthetic. The average height of this furniture piece is between 35.5cm and 73.7cm. Anything taller or shorter may look out of place and break up the room's flow.
Material
To guarantee extended use, it is worth researching the different materials from which to choose, factoring in your design goals and the intended function of the headboard. The primary materials are wood, metal, and fabric, each with unique characteristics and advantages.
Wood is likely the most popular choice because it can be presented in so many different ways to spruce up a room or simplify it with sharp, clean edges. You can choose natural tones, varnished or painted wood, reflecting a modern or classic vibe. If you feel indecisive about what will suit your bedroom best, this is the material to choose.
Alternatively, metal frames can be crafted into many styles and shapes, reflecting ancient designs or contemporary influence. In addition, they are easier to clean and maintain than their wooden counterpart and can be adorned with fairy lights, ribbons, or paint to give them a new lease on life.
Finally, upholstered headboards are a beautiful addition to any setting. The various materials from which to choose allow you to stay within your budget and taste without compromising on the finished product. Out of the three options, this will require the most maintenance to remain spotless and elegant, but your time and effort will yield valuable results.
Style
A headboard well-suited for your bedroom wouldn't compete with the rest of the decor but would instead enhance it. Simple, sleek designs are a perfect go-to choice for those unsure of what to get. They add valuable structure and interest to the room without looking out of place.
Narrow headboards with additional storage space are perfect for rooms on the smaller side where furniture pieces need to have added function without taking extra room. They allow you to skip the side table while still having space to store books, lamps, and chargers.
Whether you choose to go dramatic with a statement or want something simple and sleek, you don't have to be restricted to boring options, regardless of your budget.
Small Details
Like most decor options, the details are what make or break the finished look. For example, choosing a headboard with finishes that match other elements in the room is a stylish way of creating a complementary flow without the room feeling too matchy.
Plush fabrics like velvet and suede for upholstered headboards will suit a bedroom that already features upscale or vintage furniture. White metal with ornate details and curvy lines is perfect for feminine spaces. Solid wood and sleek leather carry a robust masculine feel.
Creativity
If you are a creative person looking for a new DIY project, consider designing and constructing your own headboard. Many step-by-step instructional guides are available to create any headboard of any design. Depending on your preference, you can choose rustic wood or upholstered cloth.
For those with welding experience, flex your skills and make it out of metal or iron. When you create something yourself, you are able to express your unique style and guarantee your headboard will be the exact design feature you want. Furthermore, the cost of materials is likely far lower than that of a brand-new option.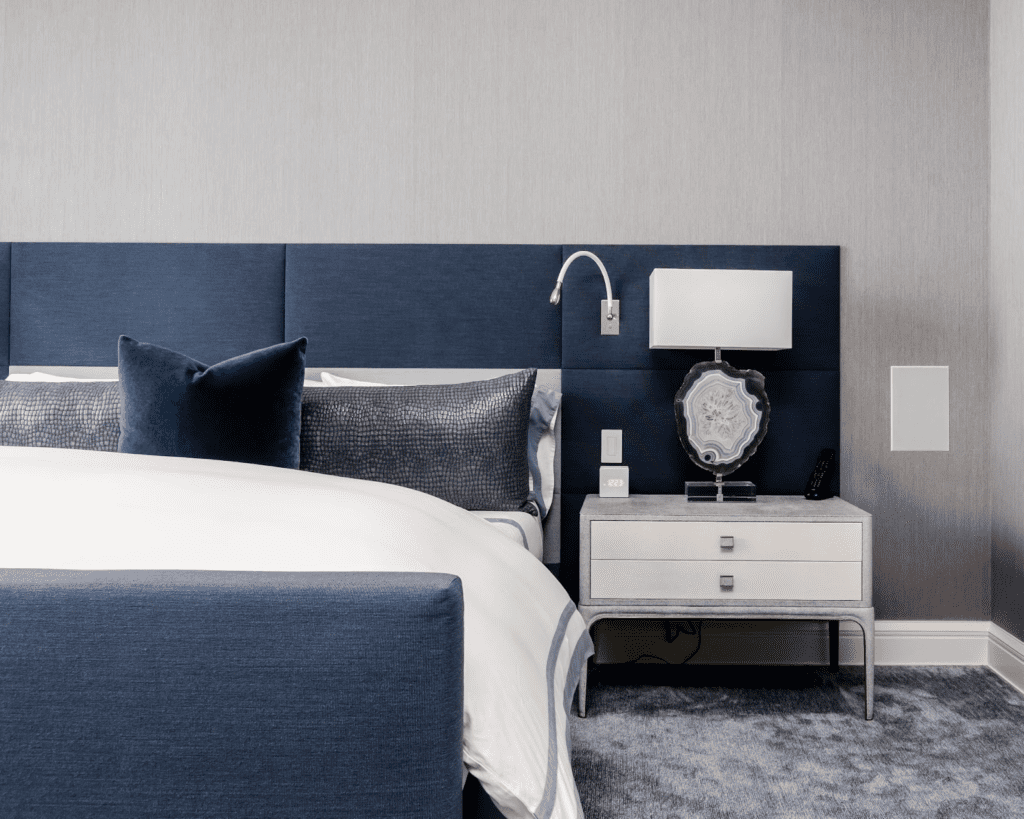 Focal Feature
Creating a focal point in a room is essential for drawing the eye and highlighting a feature that the rest of the room is designed around. It helps us make sense of the space and the function it plays. A headboard is a beautiful choice for this feature.
You can achieve this by choosing bold colors and patterns, choosing dramatic fabric detailing, or installing the headboard above the rest of the matching bedroom furniture. To create a sleek and symmetrical line, ensure it fits with the lines of the bed to create a flow between the two items.