There's no question that healthcare apps are on the rise. In fact, a recent study showed that as of 2016, there were over 165,000 health and fitness apps available in the App Store alone. So with so many choices out there, how do you know which one to choose?
Well, it all comes down to user interface (UI) and user experience (UX). The best healthcare apps have both great UI and UX design, which makes them easy to use and helps keep you motivated to stick with your healthy habits. Here are three examples of healthcare apps with the best UI/UX design:
1. MyTherapy: strikingly simple user experience
MyTherapy is a mobile application that helps people to remember to take their pills, track their progress, and connect with others who have the same prescriptions. The app has a clean, user-friendly interface that makes it easy to use. The navigation is also good, with four tabs at the bottom that allow users to access the different features of the app. MyTherapy also shows medications in pharmacies near you, making it easy to find and purchase your pills. Overall, MyTherapy is a useful and user-friendly app that can help improve your medication compliance.
In order to function like this, the UI/UX of the app is perfect. Its navigation is clean and simple, the information is presented in a clear way and according to its relevance. It allows the users to connect also with people who have the same prescription. The idea behind the app usage was for people who would require reminders several times a day and thus it can be used without the need to log in each time. UI is completed in soft colors and the overall look is very simplistic. However, it might be too simple for a young audience who often would want to see more bells and whistles, and is more suited to people over 30 and seniors. Yet, this app does include integration with VoiceOver for Apple and TalkBack for Android.
All in all, the app performs an essential function, its design is simple and the color palette is soothing for the users who are likely to be using this app a couple of times per day.
2. Healthily: clean interface with detailed and personalized feedback
When a user experiences symptoms and goes online to find some answers to what it might be – the frustration and the number of search results are just overwhelming. This is where Healthily comes in with its chatbot powered by AI technology. This app helps to sort-out symptoms and reduce if not eliminate anxiety that comes from seeing the medical explanation or advice online. Its chatbot is able to generate quite personalized advice as well as provide useful details to a user.
The color palette is done in calming colors such as teal green, white, and light greyish colors. The interface is clean and the menu contains 4 essential functional areas where users can ask for help, access their health journals, check their health plan, and, last but not least, receive useful health tips. The target audience of this app is any person who wants to get serious about their health and keep track of health issues as well as seek medical help. The UX is extremely helpful: with just a few clicks, a user can receive all the information they need with just enough details to stay informed but not become overwhelmed or frustrated.
3. Welltory: sophisticated, with a great amount of nicely stylized details
A lot of people worldwide are concerned with the condition of their heart as cardiovascular diseases are one of the most impactful on the quality of one's life. Welltory is an app that is designed to manage the data related to cardio-vascular systems and activities. Even though the app still functions without a connection to any other devices, it is primarily useful to those who connect the app to their smartwatch or other electronic trackers of their exercise activities. Once the app is on your device, it offers you to do just that, and then also gives you some tips on how to improve your health. It must be noted that the tips are not presented as medical advice from a doctor but as a friend's advice. The visual aids are implemented in a cartoon-like style which adds to the friendliness of the app, but on balance, the app does look sophisticated. The animation is present throughout the app, but it is soft and smooth. In contrast to previous apps, the color palette has a lot of bright accents but it is used very judiciously and doesn't distract users but engages them. All in all, this app has a bright and modern look.
How to achieve the same great results for your next app?
The healthcare industry is increasingly turning to mobile apps to improve patient care and engagement. As a result, there is a growing demand for apps that are both user-friendly and scientifically sound. In order to meet this demand, developers are incorporating the latest UI/UX trends into their healthcare apps. Some of the most popular trends include the use of gamification, personalized content, and Augmented Reality (AR). Gamification refers to the use of game-like features, such as points and badges, to encourage users to complete tasks or achieve goals. Personalized content helps to ensure that users receive relevant information that is tailored to their individual needs. Finally, AR provides a unique way for users to interact with information and can be used for tasks such as visualizing medical data or providing step-by-step instructions for treatments. By incorporating these trends into healthcare apps, developers are able to create more engaging and effective tools for patients and providers alike.
A product design agency can help you stay ahead of the curve when it comes to the latest UI/UX trends in healthcare apps. By keeping up with the latest trends, you can ensure that your app is user-friendly and easy to navigate. Additionally, product design agencies can help you create an app that is visually appealing and easy to use. With their help, you can create an app that patients will love using. So, if you are looking for ways to improve your healthcare app, be sure to contact a product design agency today.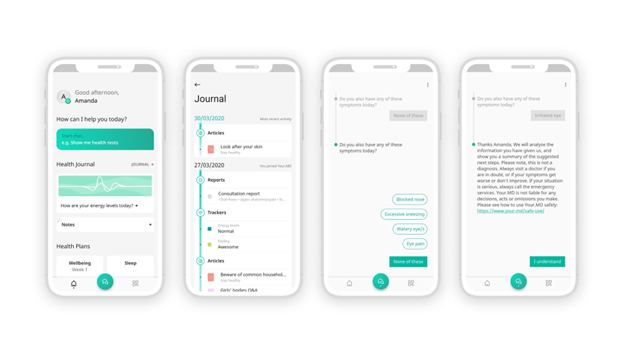 Final thoughts
At a product design agency, the team works together to create the best possible user experience for their client's products. To do this, they need to have a strong understanding of UI/UX design principles. They also need to be familiar with the latest trends in the industry. But most importantly, they need to be able to study and learn from case studies of the best UI/UX designs out there. By doing this, they can see what works well and adapt those techniques to their own product designs. Additionally, they can avoid making the same mistakes that other designers have made in the past. In short, studying case studies like the ones presented here is essential for any product designer who wants to create high-quality user experiences.