There's a good chance you've seen examples of Japandi style on social media even if you haven't heard of it. The trend incorporates aspects of Japanese and Scandinavian styles and is a winning combination.
Though often sparse, Japandi homes are comfortable and textured because of the incorporation of the Danish hygge (cozy feelings only) and Japanese wabi-sabi (natural flaws welcome) philosophies.
When you include in the widespread respect for artful workmanship and the natural world, it's easy to see why these two aesthetics have merged into a single, cohesive whole.
Keep reading to learn more about this beautiful style and learn how to incorporate it into your home.
A Breakdown of the Japandi Style
You may be shocked to learn that the origins of a style that seems so remarkably modern trace back many decades. The name "Japandi" has only been in usage since the 2000s. However, the history of cultural exchange between Japan and Denmark extends back to the 19th century. It started when Danish designers first visited Japan after the country's restrictive travel regulations were relaxed after 220 years.
Meaning of The Name
"Japandi" refers to a fusion of Japanese and Scandinavian aesthetics. It takes cues from the Scandinavian tradition of hygge, which emphasizes togetherness, tranquility, and contentment, and the ancient Japanese concept of wabi-sabi, which promotes a slower pace of life, an appreciation for the simple things in life, and an appreciation for the natural world.
Key Features
Japandi combines the clean, contemporary lines of Scandinavian design with the understated beauty and practicality of Japanese art and architecture. It is spare yet warm and centers on using neutral tones, many textures, and natural materials.
Despite coming from various parts of the world, the worlds of design work well together. All elements of a traditionally designed space in Japan are carefully considered. Every component is significant.
The Japandi aesthetic is warm and hospitable while adhering to minimalism tenets. Clearing the decks makes way for a relaxing haven.
Standard features of such rooms include an emphasis on greenery and an appreciation for classic furnishings. In a nutshell, Japandi represents the pinnacle of tranquil, practical lifestyles.
What Is it About the Japandi Style That Is So Popular Now?
The foundation for the Japandi style was laid many years ago. However, the look as we know it now has only recently come into focus. Why did it become so popular?
Sustainability
Japandi's commitment to producing durable goods aligns with the current environmentally conscious mindset. Quality, not quantity, is what consumers are searching for and appreciating these days, and that goes for everything from furniture and fittings to decorative items and ceramics.
Japandi places equal importance on long-term viability. Sustainable practices include investing in durable, high-quality design.
The Pandemic
Even if you're only now learning about Japandi interiors, you should know that its calming aesthetic is perfectly in sync with the current zeitgeist, which places a premium on the quality of our personal space. The epidemic caused many individuals to stay inside more often than usual.
It served as a place of business for them, a daycare for you, and a hangout for the two of you. I'm under the impression that many individuals are on the lookout for a calming aesthetic.
The calm, collected look of Japandi decor and the sturdy handiwork that characterizes Japanese design is ideal for meeting these requirements.
This fashion seems to be holding firm so far. Listed below are essential guidelines we can provide for success.
Stay True to Nature
Colors should be modest and neutral if at all possible. Images of sand, milk, taupe, oatmeal, and stone may come to mind.
Avoid white or bright colors. There should be zero harsh, grating, or dominating elements.
You may always throw in a splash of color if you find these tones too dull. In this case, light Scandi colors like pink, blue, green, or grey work well, and you can enhance depth by using a darker accent color like black or charcoal grey.
One of the defining characteristics of Japandi design is the use of light-colored natural fibers and eco-friendly materials, including rattan, bamboo, cotton, hemp, and paper. You may spice things up with some metals that are both visually appealing and functional.
Mixing and Matching
Wood, along with bamboo and rattan, is a natural option for home furnishings. Pieces from this region are characterized by their uncluttered simplicity.
Whereas in Japan, curving pieces of furniture made out of stained or painted wood are the norm. If you want more visual appeal, don't be scared to combine the two styles.
Natural Colors
The Japandi camp now has two distinct sides. Those who lean toward the Scandinavian style often choose a white or neutral backdrop with colorful embellishments.
While some like smaller accents of color, others may opt for vast areas of saturated color on walls and other surfaces.
Use earthy colors like blues, greens, purples, and browns. As with many other Japanese aesthetics, the color black is often used.
Take care to choose only the finest materials. It is possible to use either bright or dark wood. However, you should make an effort to ensure that the wood's color is consistent. As a result, the space seems more contemporary and harmonized.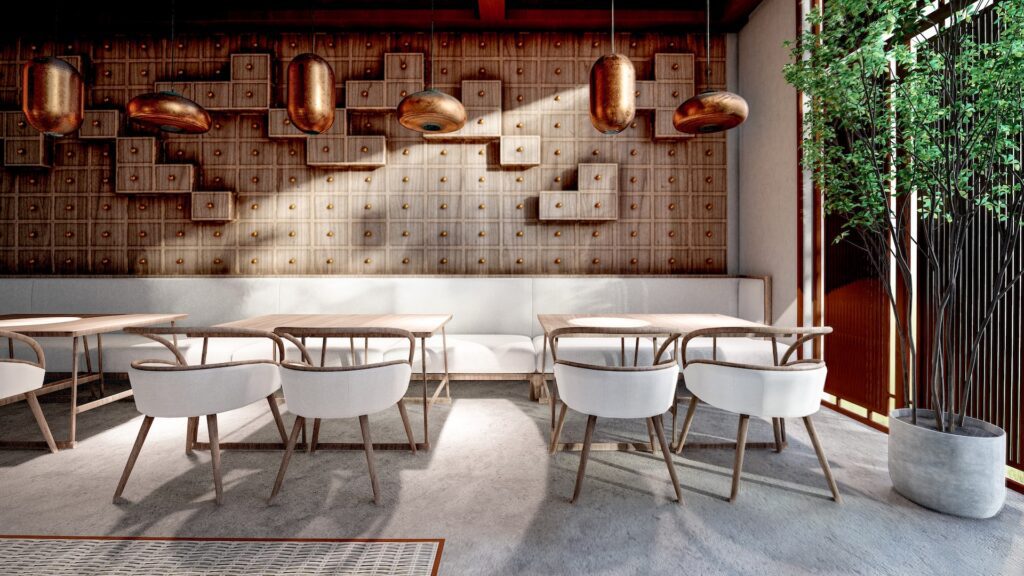 Sumptuous Textures
Using a variety of textiles and textures is a great way to give your Japandi decor more personality and visual appeal.
Beautiful patterns are a trademark of Japanese design. Cushions, curtains, drapes, and table linens are all worth the investment.
Soft, plush fabrics and bold patterns are also great ways to achieve hygge. Like this, the style will be warm and inviting rather than distant.
Rugs play a significant role in homes. You should put a large, plush, discreetly patterned rug made from natural materials next to your bed the instant you slide your feet out of bed in the morning.
Using wool blend throws, you may add a layer of luxurious warmth to your bed.
Very Few Extras
Reduce the number of extra items you have. The concept of minimalism is central to Japandi. To put it simply, less is more.
Spend your money on a few high-quality items that you will treasure forever. Mirrors, artwork, picture frames, wall hangings, table lamps, flowers, and carpets, all carefully selected, may completely alter the atmosphere of a space and make it seem warmer and more inviting without adding excess furniture or unnecessary accessories.
Natural plants are a wonderful decorative accent. They are a staple of Japandi decor and a simple method of bringing the outside in.
They provide a warm touch and will help modern spaces seem cozier. As a bonus, they enhance air quality, making them ideal for those who want to replicate the clean, fresh atmosphere of the Nordic countries. Adding a bonsai tree is a great way to emphasize Japanese inspiration.
Dimmed Down lights
Sleek and lovely lighting is the cherry on top of your minimal cake. You should put as much thought into your lighting as any other accessory or piece of furniture.
Keep the lights low to create an atmosphere of calm. Add a Nordic touch to a more somber color scheme inspired by Japan.
Alternatively, hang some hand-made, retro pendants in copper or pewter for a touch of contrast, warmth, and elegance.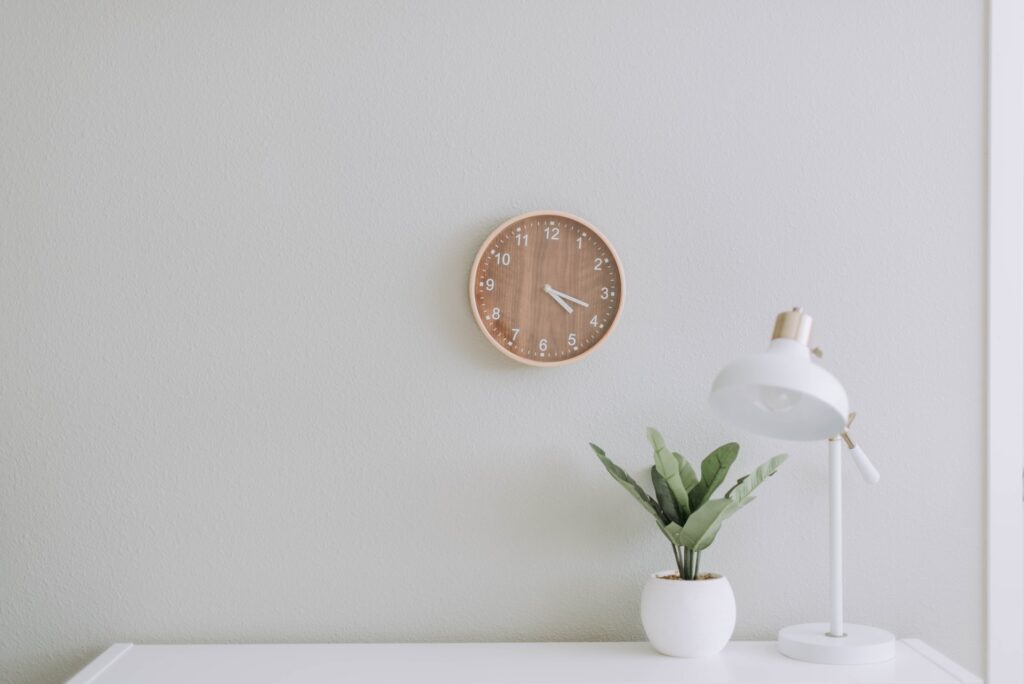 Japandi Style Bathroom Design
In traditional Japandi-style bathrooms, the central water feature is the most prominent design element.
Adding a standalone tub or open shower may instantly create a calm environment.
Plants like ferns and monsteras that do well in high humidity might help soften the overall appearance. Make use of organic towels and a Japan-themed stool or bathroom caddy to complete the look.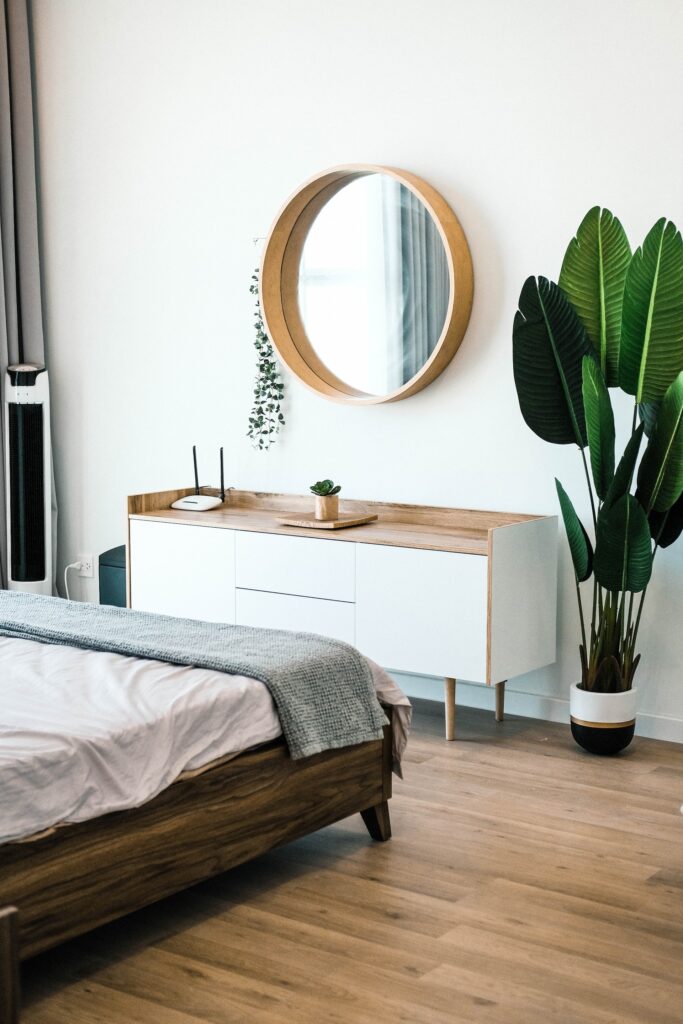 Japandi Style Bedroom
The Japanese design bedrooms with relaxation in mind. Therefore no technology is allowed.
The layout is full of comforting items that don't overpower the eye. These rooms prioritize practicality above glitz. Yet their visual quality is unmatched.
Moreover, textured decor and soft furniture are essential.
Express Yourself with Japandi Style Patterns
While keeping things uncluttered is of paramount importance, it doesn't mean you have to do rid of every pattern in your home.
Adding an accent color that will add visual appeal and warmth against a relaxing, quiet background is as simple as introducing a stylized design.
Pick a single statement pattern to serve as your scheme's central focus. This may be on a mural or wallpaper in the background, or it could be on some plain curtains, a duvet cover, or some wall art.
The remainder of the plan should be restrained and understated, using muted colors and subtle patterns.
Reliever: Simplify Window Treatments
Suppose you want your home to have the airiness and lightness characteristic of Japandi design. In that case, you should avoid using heavy curtains and fussy window treatments.
Always choose light panels, pleated shades, and floaty sheers that are well-tailored and airy. Make sure they let in as much light as possible through the windows.
Use natural linens and textured weaves in neutral hues and muted mineral tones. Think about replacing your bedroom's drapes and blinds with frosted film instead.
It will block the view and allow plenty of light when installed on the lower windows. Choose floral patterns or minimal geometrics for a tasteful touch of design.
Go for Low-settings
Simple, uncluttered layouts are fundamental to minimalist design. By leaving space around your furniture, you may improve the area's flow and let in more light.
Beds, particularly those fashioned after traditional Japanese sleeping platforms or those with a low profile, play a pivotal role in the overall design and are a natural fit with the Japandi aesthetic.
A low-level bed, such as a Japanese-style futon or a low-rise Scandi-style bedstead, has the advantages of making the room seem more open, keeping the temperature down (because heat rises), and being simpler to get into.
Choose from the most delicate cooling pillows to chill down your bedroom.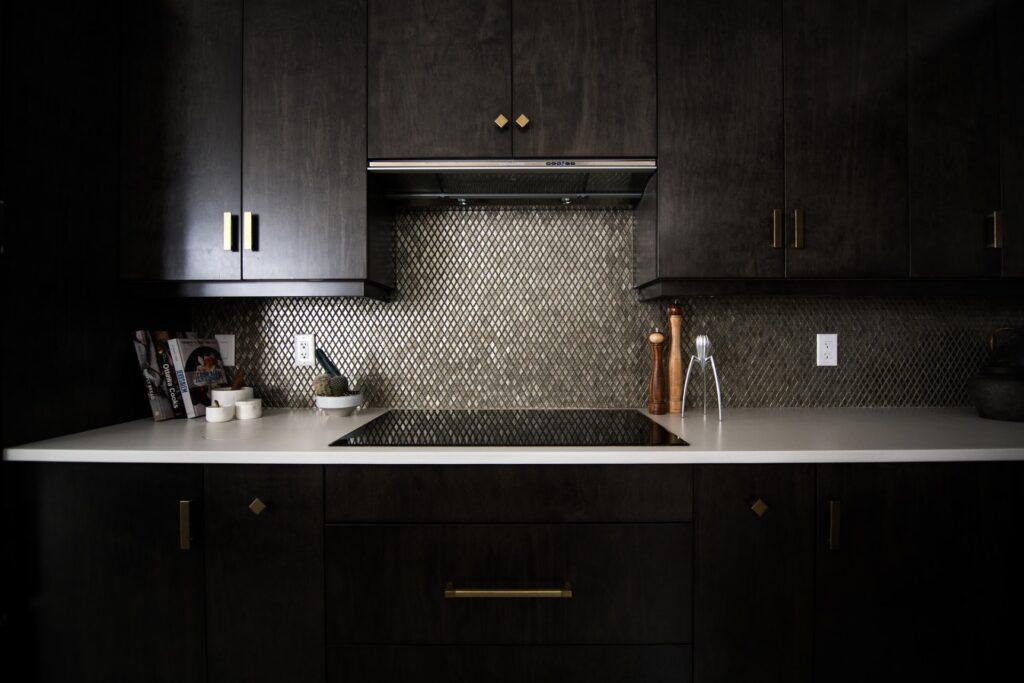 Make Use of Wooden Sheeting
Many fundamental design principles are applied across the cultural and geographical divide that separates Scandinavia and Japan.
The importance of appreciating design's simplicity and utility and materials' natural beauty cannot be overstated. Both share the aesthetic choice of incorporating wood and timber into the design.
Choose Your Wood Type
Choose from vertical slats and panel screens in Japanese-style Red Pine, Cedar, or Cypress, or go with more rustic timber cladding in Scandi-style pine, oak, or teak.
A stylish way to make a statement in a Japandi bedroom is to panel one wall in timber or add a feature panel behind a bed.
Wood is fundamental in Japandi interiors because of the positive connotations it has with the elements of nature, the home, and leisure.
It's important to incorporate natural materials into functional spaces. This is because they've been shown to improve residents' well-being.
Look for Silhouettes
Achieving the minimalist beauty and harmony that characterize Japandi requires smooth surfaces and an understated, uncomplicated aesthetic.
To best appreciate the texture and finish of natural woods or the understated shine of lacquered pieces, bedroom furniture should have simple lines, slim forms, and no handles.
Storage
When you have a fitted wardrobe in your bedroom, you can keep your clothing, shoes, and accessories out of sight and out of mind.
Reduce the amount of space devoted to displaying things and instead focus on highlighting a select few focal points to help create an atmosphere of serenity.
The Japandi movement centers on the pursuit of happiness. The objective is to produce a condensed collection of materials and colors that seem serene and welcome, from the flooring to the door furniture on the cabinets.
Keep the style intact with the help of convenient storage and a rigorous decluttering routine. When it comes to design, less is most certainly more.
The aesthetic value of a space is directly proportional to the degree to which it is devoid of unnecessary items.
Don't only focus on how each piece of furniture looks; give equal consideration to how you'll keep things and how easily you can get to them.
Conclusion
Both societies value nature, so decorating the bedroom with plants is an excellent way to bring the outside in. Try little Bonsai trees, tubs full of bamboo, or a collection of houseplants in pots and hanging planters.
You can also try using Japandi style outdoors. Just strictly adhere to all of the rules we just outlined. Simple: include lighting in a Japanese design, furniture with simple lines, and natural tones.
In no time, you'll have a tranquil oasis all to yourself. After reading this article, we hope you'll be inspired to try some new things at home.