The Takashi Murakami Flower is a piece of art that contains a collection of colorful flowers with a smiling face in the middle. It looks simple, but the motif is the work of a Japanese artist, Takashi Murakami. With the Takashi Murakami flower, the designs always look cheerful. These flowers have appeared in brands such as UNIQLO, Supreme, and Louis Vuitton.
Because it comes from Japan, it's unsurprising that Murakami's work appeared when he lived in anime's country of origin. When he studied Nihonga or painting in the traditional Japanese style, he came to the subject of "setsugetsuka," which means snow, moon, and flowers.
About The Takashi Murakami Flower
The artist chose to draw Takashi Murakami flowers according to Japanese tradition. However, he described 50 flowers in one stem, with 2-3 leaves. From there, the unique Flowers motif was born.
The floral motifs look sweet and innocent indeed. But it turns out that his motivation to paint the picture is far from sweet or happy.
From a 2005 New York Times article, the smiling Flowers motif shows the opposite emotions felt by traumatized Japanese soldiers from the Hiroshima and Nagasaki bombings in 1945. Wow, that's scary, isn't it?
Takashi Murakami also produced many other works and started working and producing unique designs with other artists. Starting from the cover of the Chameleon album by Japanese band End of The World, Kanye West's Graduation album cover, Billie Eilish's animated music video You Should See Me In The Crown (this is a bit scary visualy), to the B Balvin x Takashi Murakami flower hoodie black for Drake merchandise.
Facts About Takashi Murakami
Takashi Murakami is a well-known contemporary artist from Japan. Murakami himself is famous for collaborating with well-known fashion brands to involve several other well-known musicians. Here are five things you should know about this artist, born in Tokyo in 1962.
1. Combining Anime and Western Art
Takashi Murakami often mixes Japanese art ideas with Western art in his works. In 2001, the man who graduated from the University of Tokyo launched the work Superflat. This work is inspired by the manga that became popular in Japan after World War 2.
Then this 57-year-old man combined his famous work with bright colors. This makes Murakami one of the most famous artists.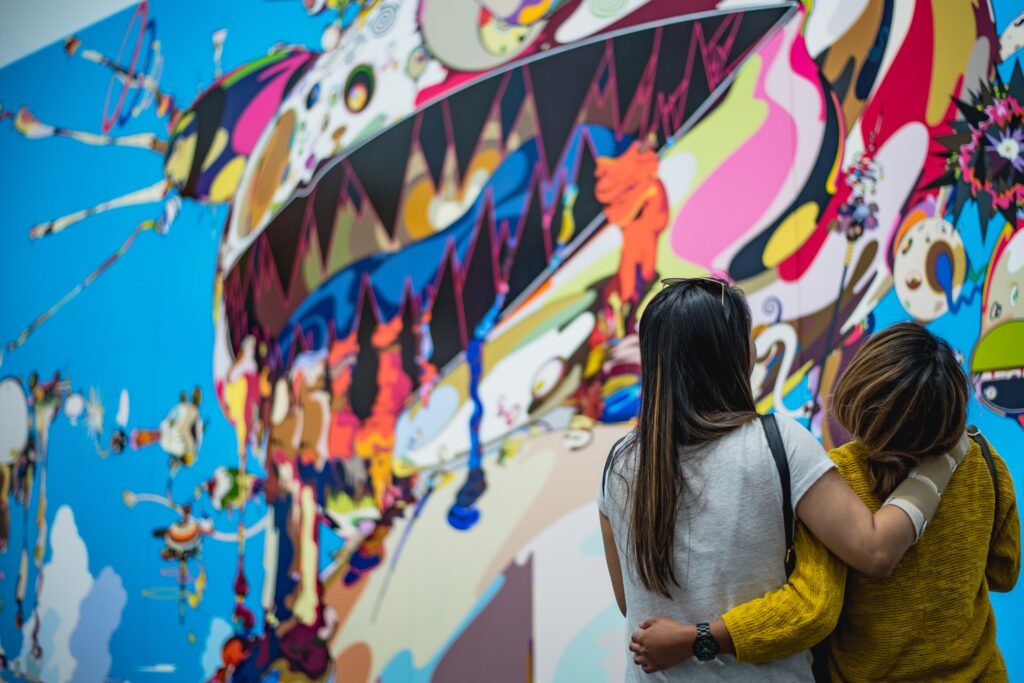 2. Collaborating with a Well-known Brand, Louis Vuitton
Not only choosing canvas as a medium, but Murakami has also collaborated with well-known fashion brands. One of them is Louis Vuitton. Takashi has had a partnership with this French brand for 13 years.
Quoted from ARTNews, the working relationship between the two stopped in 2015. Because the principal designer of Louis Vuitton then, Marc Jacobs, did not have a contract with Louis Vuitton. Jacobs was the one who invited Takashi Murakami to collaborate.
3. Collaboration with Famous Musicians
Takashi Murakami also had the opportunity to be with famous musicians such as Kanye West and Billie Eilish. The man born in 1962 had designed Kanye West's 2007 album, Graduation. Meanwhile, in 2019, Takashi Murakami made the music video You Should See Me In A Crown by Billie Eilish in an animated version.
4. One of The Targeted Artists Besides KAWS
Besides KAWS, Takashi Murakami and several other artists also produce collectible figurines. As quoted from the South China Morning Post, a unique design is the main reason collectors eye these toys.
The desire to own valuable art is one of the main reasons why many people seek Murakami's other works.
5. Jellyfish Eyes is Takashi Murakami's First Film
Takashi Murakami also tried his creativity through the film Jellyfish Eyes, released in 2013. This film is the debut of this Tokyo man as a film director and story writer.
Jellyfish Eyes combines animation and real people, making it a unique film. The movie mainly talks about friendship and stars several Japanese actors such as Masataka Kubota, Asuka Kurosawa, and Takumi Saitoh.
Takashi Murakami Best Creations
Of course, as previously mentioned, Takashi has more than 3000 works, some of which are very famous. However, none are as recognized as the Takashi Murakami Flower
In addition, it is not uncommon for his works to be brought to international scale exhibitions to be exhibited in other countries, and some of these works include:
1. Takashi Murakami Flower
His first work to make it globally is a painting whose theme is flowers, and if you look closely, it looks like an ordinary flower. Even those who have just seen it will think that this is not a work of art by a famous artist.
However, looking more closely, Takashi combines several colors to produce exciting and mesmerizing work. That's why this work became famous.
2. My Lonesome Cowboy
This time it is a statue made by Takashi in 1998, which has a unique shape and is quite vulgar. Another name for this statue is a bit interesting, namely "body fluids."
This statue has a height of about 288 cm or about 9.45 feet and is currently in one of the museums in Japan. Inspired by anime that can excrete large amounts of semen, which is why this statue is called bodily fluids.
3. Tan Tan Bo
Remember what was said earlier that Takashi Murakami will combine a traditional icon which is then added with contemporary elements. This is what is created in this painting made in 2001.
In this painting, fans see a figure like a mouse but have a complex mix of colors and strokes. Not only that, but the face shape of this rat is also not wholly similar to that of a rat.
4. 727
It is tough to explain in words for this one work, but it is exciting to look at. In this painting, Takashi created an exceptional work beyond imagination.
In addition to presenting an exciting shape, Takashi also produced a stunning color combination in this work. So do not be surprised if this work later became famous.
Final Thoughts
The Takashi Murakami Flower is simple yet has captured the imagination of people worldwide and has become a global sensation. With a following as big as he has, I am sure you will see a lot more of him in the mainstream soon.